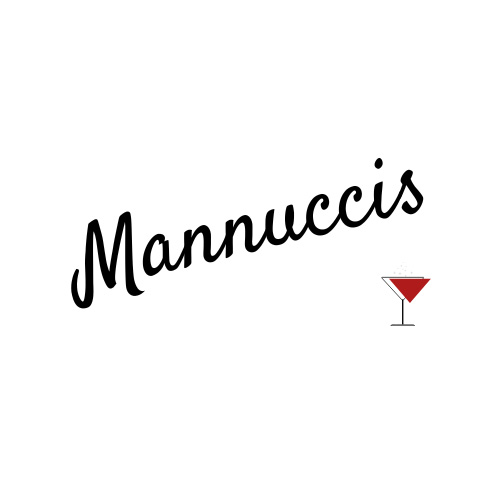 1 High Street, Cardigan, SA43 1HE
PIZZA
'Olivieri Speziata' – Chilli pepper, hot salami, oregano and black olives
Bruschetta
Ciabatta topped with garlic, mozarella and tomatoes
Fish
Poached fillet of seabass with fennel and white wine on a bed of cherry tomatoes and ciabatta
Panna Cotta
Sweet creamy tonka bean pudding with a seasonal fruit compote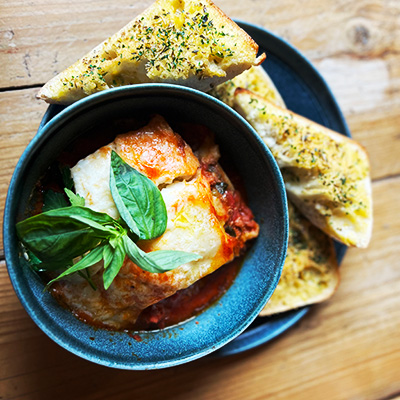 Pasta
Our authentic lasagne contains layers of pasta, ragu, mozzarella and a besciamella sauce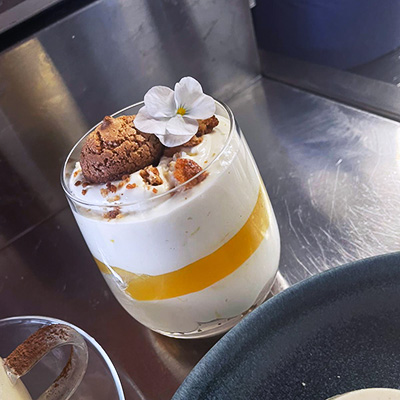 Limoncello Tiramisu
Limoncello, savoiardi biscuits, layered with a whipped mascarpone sweet cream cheese
About Mannuccis
Our Italian restaurant is named after our grandparents, Nonno and Nonna Mannucci.
Growing up, we spent countless hours in the kitchen with them, creating and savouring authentic Italian dishes.
Today, we're thrilled to share these family recipes with our guests, using only the freshest and highest quality locally sourced ingredients, with a few key exceptions – we simply can't compromise on the real Italian taste!
Join us for a culinary journey that will transport you straight to the heart of Italy.
While you're here, why not try our very own locally produced gin? Just make sure you don't enjoy it too much!
The restaurant
Our beautiful dining room invites guests to sit back, relax, and enjoy the delicious flavours of Italy while capturing the ambience of eating al fresco on a perfect Italian evening.
From April 1st, 2023 we'll be offering our lunch menu! Keep an eye out for our extended opening hours.
Fancy lunch?
If the weather is good, we're now open for lunch on Wednesdays through to Saturdays from 11:30 am to 2:30 pm under our heated canopy on our patio. Please make sure you call us before you come though to make sure we're open!
" The food was lovely, which we had with a great red house wine, well presented and full of flavours and I would say it was an authentic Italian experience ."
"This was our first visit and it definitely won't be our last. Such a warm welcome, attentive service and wonderful food. We can't wait to come again!"
" HUUGE Thank You to all at team Mannucci's. You made my parents feel welcome and provided a fabulous night. Excellent meal, excellent staff – can't wait to try it for myself "